Ranks and Other Notes
We released our second app update of 2022, v5.2.11 today! Some of these updates have also been added to the website recently. We'll discuss them below the changelog.
Changelog:
Show backglass image (from OPDB) on machine screen
Note whether or not an operator receives machine comments
Add contributor rank and badge to user profile
Updated the FAQ
Bug fixes and stuff
Contributor Ranking System
For many years, every user's Profile included stats about their map edits. These include how many machine comments they made, machines they've added and removed, location submissions, and so on. And also for many years, our hearts have desired to use these stats to form a user "points" system. At first we were discussing a more mathematical system that assigns different points to different types of map edits. The assumption there is that a location submission is more valuable to the map than, say, a user entering a score. However, while we worked on implementing this ranking system we decided to go the straightforward route and just total up the number of contributions.
So, both in the app and on the website, the stats on your profile page now show "Total Contributions". And we awarded ranks (badges?) based on this total.
If you've made between 50 and 250 map edits, you are a Super Mapper
For 251 - 500, you are a Legendary Mapper
And for more than 500 map edits, you are a Grand Champ Mapper
We also include a little colored ball icon (different color for different ranks) next to the rank title.
As of this writing, fewer than 30 people have made more than 500 map edits. Also, if a user is an administrator, we show that as their rank instead (e.g. "Regional Administrator").
In conclusion, this is a fun and simple way to track your contributions. On the website, you can always click other people's names and view their profile. Currently on the app, though, you can only see your own profile. But in an upcoming update, we'll make it so you can view other people's profiles.
Notes Whether Operator Receives Comments
This was suggested by Eric, our Bay Area admin! As you know, some locations on the map are tagged with the operator who manages those machines. This allows operators to quickly filter locations to only their venues, and then they can update the map more efficiently. Furthermore, some of these operators choose to receive an email digest of comments that are made on their machines. The operators choose to get these comments so they can more efficiently response to the comments. Eric thought (and we agreed) that if the user leaving the comment knew that the operator will see the comment, then they might be more inclined to leave a constructive (and friendly) comment.
So with this update, if an operator has elected to receive the comment digest, we note this (in the machine details screen). See below. And on the "leave a comment" screen, we also give another reminder.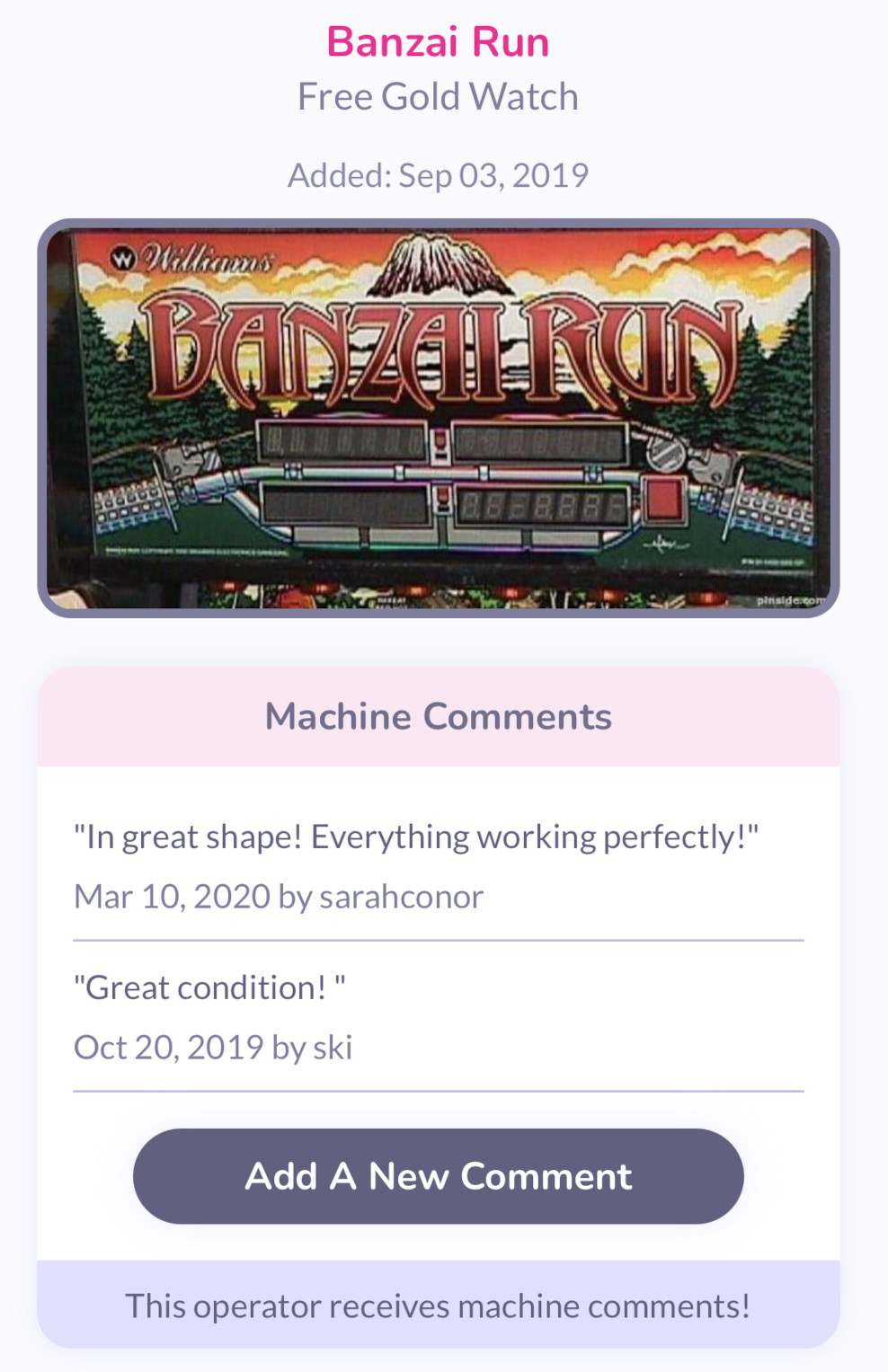 Backglass Images
As you can see in the screenshot above, we are now showing backglass images! These images are provided by the Open Pinball Database (OPDB). Aside from being a nice visualization, these images can also help people understand if the correct version (premium, pro, LE, etc) is listed.
Some of the backglass images are currently missing from OPDB (especially newer titles). You can help with this! Images can be uploaded to OPDB here. We want these to look NICE! Criteria:
General guidelines
OPDB needs photos of backglass/translite, playfield (full and details) and cabinet.
Backglass/translite guidelines:
Take photo straight on, not at an angle
Crop image to show only artwork
Avoid glare, if possible