Support Businesses by Renting a Pinball Machine!
These are dark and uncharted times. We want to say upfront that we're very proud of the pinball community for - according to the map usage data - promptly chilling out the moment things really heated up in the U.S. Take a look at the chart below, tracking map user edits for the March 2020.*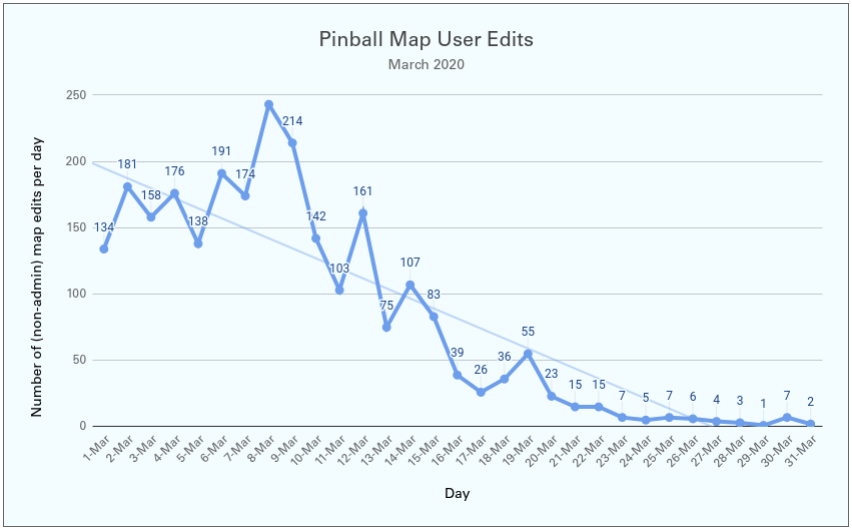 We used to see a couple hundred maps edits per day, and now it's down to a handful. In February, we added a "map last edited x minutes ago" tracker, and it rarely went over 30 minutes between edits. But now it can be 14 hours between edits! Anyway, good job.
One of the joys of running Pinball Map is that we feel like we're helping people who are running businesses. A lot of our location submissions are sent directly from people who have just opened, or are about to open, a brand new business (bar, restaurant, etc). And we always say, "GOOD LUCK!" to them as they take the plunge into self-employment. We're honored to be a component of their hustles to grow, and it's gratifying when we get feedback saying that customers found out about them from the map.
But now, with so many businesses closed, we really hope that not too many of them close for good! We don't know what the future will bring here. But we can imagine the pain that folks are going through.
With that said…
In The Meantime, Rent a Pinball Machine!
We've read articles and heard reports of business owners and operators renting out their pinball machines on a weekly or monthly basis for home use. This seems like a great way for pinball-loving businesses to stay afloat, while also giving people in quarantine something fun to do.
Alotta people are excited about this idea, but sometimes they don't know where to start. So we asked the operators listed in our system if they're renting machines out. Here's a list of what we have so far (they gave us permission to post their contact info). As we gather more, we'll add them to this list. If you have machines to rent out, email us.
We're just supplying contact info here. We don't take responsibility for anything that happens after this, and we can't vouch for whether this is allowed in your area.
From what we've heard, operators will deliver and set up the machines (sometimes for an extra fee). Prices seem to vary wildly ($100-400 a month?). And some operators offer rent-to-own (inquire!).
---
A List of Businesses Renting Pinball Machines
Boise, Idaho, and the surrounding Treasure Valley
Kingpins LLC
KingpinsLLC@gmail.com
https://www.facebook.com/KingpinsLLC
208-629-2486
Charleston, SC, and surrounding areas
Charleston Gamerooms
david@charlestongamerooms.com
http://charlestongamerooms.com/
843-573-9898
Columbus, OH, and surrounding areas
Tilt Amusements
trent@midohio.net
http://tiltamusements.com/
740-803-2276
Denver, Colorado
Kevin Ryan
pinballsnowboarder@gmail.com
303-517-0669
Finland / Greater Helsinki
Pinballboys
info@pinballboys.com
https://www.pinballboys.com
358406539696
Michigan
AR Gaming
https://www.argamingrentals.com/
New England
Beck Games Inc.
Beckgames@aol.com
http://beckgames.com
401-226-1394
Based in Rhode Island
Omaha, NE
Greater America Dist/MD Corp
jerry@gadvending.com
http://gadvending.com
402-553-2812 Ext 209
Portland, OR
Quarterworld
info@quarterworldarcade.com
https://facebook.com/quarterworld.portland
503-236-2454
Raleigh, Durham, and Chapel Hill
Home Game Arcade
sales@homegamearcade.com
http://homegamearcade.com
1-855-PIN-GUYS
San Diego County
Pincraft Pinball
mark@pincraftpinball.com
860-287-2137
Area Amusements
areaamusements@gmail.com
http://areaamusements.com
760-471-6232
Utah
Lit Amusements
natemsmith04@gmail.com
Based in Ogden
Wisconsin
All Castle Games
info@allcastlegames.com
http://www.allcastlegames.com
920-980-1947
Serving East Central Wisconsin
Wisconsin P&P Amusement, Inc.
weigelwipp@yahoo.com
http://www.wisconsinpandp.com/
(262) 790-0321
Serving Milwaukee area, Ozaukee county, and Waukesha County
---
*We excluded administrator edits from this chart, because those edits can be scattershot on certain days, and don't necessarily reflect people going out and visiting places.